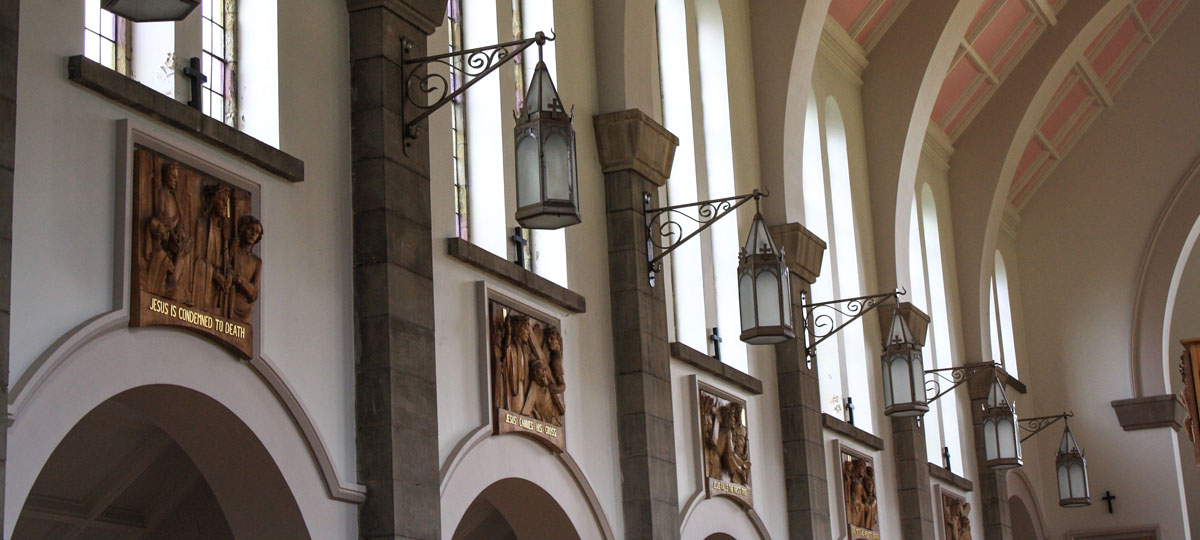 Forthcoming Events
Throughout the year we have regular Special Events marking occasions such as Mothers' Day, Christmas, Easter. There is an Annual Remembrance Day Mass, a Christmas and Summer Fayre, and a number of Ecumenical Events with our neighbouring Church of Scotland and St Matthew's Episcopal Church - e.g the annual Seder Meal, Lent and Advent Services, and the Service for all those in any way affected by cancer …….


EVENTS IN MAY 2019



FIRST COMMUNIONS: May is traditionally the month of First Communions and our two schools are no exception. St Teresa's children make theirs on Saturday 11th May at the 10 am Mass, and St Cuthbert's make theirs the following Saturday, 18th May, also at 10 am Mass.



WORLD DAY OF PRAYER FOR VOCATIONS: Sunday 12th May is a World Day of Prayer for this cause, and we are asked to pray especially for an increase in vocations to the priesthood and religious life.



PAUSE FOR HOPE SERVICE: This very beautiful Prayer Service is designed as a prayer for all those suffering from cancer and including all those in any way affected by it – family, friends, carers, medical staff, research scientists etc. Based on music, prayer and reflection, the service begins with an invitation to all present to light a small candle for the cancer victim or victims they are praying for. These remain lit throughout the service which takes place on Thursday 16th May, at 7pm in St Teresa's Church, led by Fr Lawler.

SVDP SUMMER CHARITY CONCERT: This takes place in the Woodside Halls, Carnarvon Street on Friday 17th May, beginning at 7.30pm and ending around 10.15pm. Doors open at 7pm.

STRONGHOLD FESTIVAL: Held at Craig Lodge, Dalmally this 4-day festival is for all 16 to 35 year olds. It offers 4 days in the Highlands and a powerful weekend of prayer, music, talks, mountain walks, and loads more. 24th to 27th May. For details see www.facebook.com/StrongholdFestival

HOLYDAY OF OBLIGATION: Thursday 30th May is the feast of the Ascension and is a Holyday of Obligation. Masses in St Teresa's are: Vigil Mass at 7pm on Wednesday and morning Mass on Thursday at 10 am.

DAY FOR LIFE: Friday 31st of May is the feast of the Visitation and is the day the Bishops of Scotland have designated as the annual Day for Life.