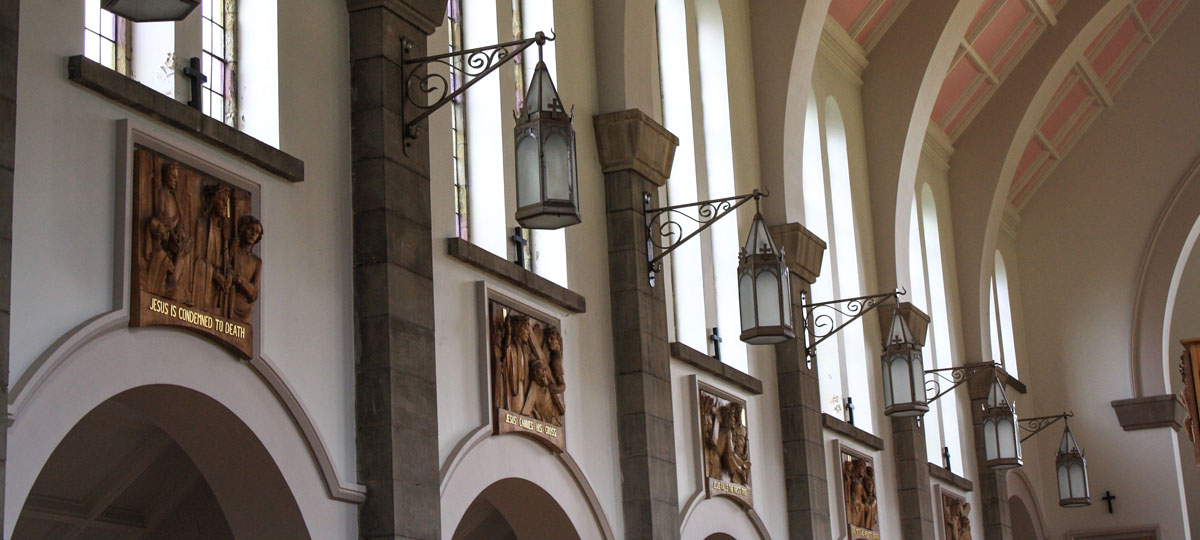 Forthcoming Events
Throughout the year we have regular Special Events marking occasions such as Mothers' Day, Christmas, Easter. There is an Annual Remembrance Day Mass, a Christmas and Summer Fayre, and a number of Ecumenical Events with our neighbouring Church of Scotland and St Matthew's Episcopal Church - e.g the annual Seder Meal, Lent and Advent Services, and the Service for all those in any way affected by cancer …….
Forthcoming Events

ANOTHER YEAR BEGINS …….

Our Christmas celebrations were, as always, very beautiful and very much enjoyed. The music was glorious, and the church was full. We managed to distribute all the gifts so generously left under our giving tree, They were very much appreciated. Now, with Christmas and all its celebrations behind us, we look ahead to what the new year holds for us. We have already celebrated the feast of Glasgow's Saint, St Kentigern, and are even now celebrating the Week of Prayer for Christian Unity.

Looking ahead, here are some of the events on our calendar:

HOLY GROUND IN UNEXPECTED TERRITORY: Commemorating the martyred Archbishop Romero, this year's Romero Centre Lecture takes place in St Aloysius College Hall on Tuesday 29th January at 7pm and the speaker is the Rev Joanna Jepson, an Anglican priest who worked in a maximum security prison once described as "the bloodiest and most violent prison in America." New life and hope are not what you'd expect to find there, and yet its inmates are even now inspiring global change in prison rehabilitation.

NEWMAN ASSOCIATION: The next meeting takes place on Thursday 31st January at 7.30pm in the Ogilvie Centre at St Aloysius, Garnethill. The speaker is Professor Bart McGettrick and his topic is "Freedom from Chaos – Education in the Holy Land".

MASS OF OUR CELTIC ROOTS: This annual event takes place in St Aloysius' Church, Garnethill on Sunday 27th January at 4pm. Music by the St Mungo Singers and many other musicians. .

WORLD DAY OF CONSECRATED LIFE: This day recognises and celebrates the role of all religious in the church, and in Glasgow it will be celebrated at a Mass in the Cathedral on 2nd of February at 10 am. This will be celebrated by the Archbishop and all the religious of the diocese are warmly invited to attend.



WHITE MASS FOR THE MEDICAL PROFESSION: This Mass will be celebrated by the Archbishops and Bishops of Scotland on Sunday 10th of February and all medical and care personnel are warmly invited to attend.



WORLD DAY OF THE SICK: February 11th is the feast of Our Lady of Lourdes and an appropriate day to think of and pray for the sick members of our families, our friends and fellow parishioners. The little prayer card that follows was designed for us many years ago by Bart Condon and we still use it in our parish.