Church of St Teresa of Lisieux

Announcements

SERVICES IN HOLY WEEK:
Monday 11th Stations of the Cross at 7 pm

Thursday 13th Morning Prayer of the Church at 10 am;
Mass of Chrism in the Cathedral 11 am;
Mass of the Lord's Supper at 7pm followed by Veneration at the Altar of Repose (in the hall). Night Prayer there at 9pm

Friday 15th
Morning Prayer of the Church at 10 am;
The Passion of the Lord at 3pm The Church will remain open until 5pm for anyone who wants confession or wants to venerate the cross.
Saturday 16th
Morning Prayer of the Church at 10am. Confession available after
Easter Vigil begins at 8pm.

Easter Sunday: Mass at 10.30am

** Please note: there is NO 5pm Mass on Saturday 16th**

Changes to mass schedule
Due to the low numbers attending we will no longer have a saturday morning mass effective from this weekend. This change will have no impact should a funeral be required on a Saturday.




We would like to extent our best wishes to Canon Hendry who celebrated 55 years of priestly ordination this weekend. 31 years of which have been spent here at St Teresa's.

A Message From Canon Hendry: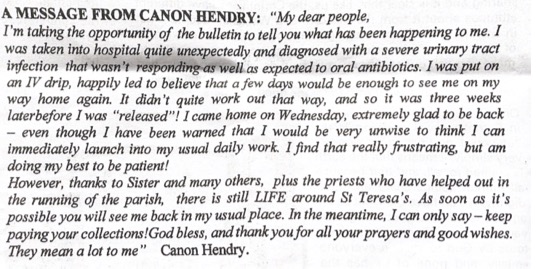 Canon Hendry has been delighted to confer the sacrament of confirmation on young people from St Teresa's and St Cuthbert's. They were a credit to their schools and to our parish. Thank you to our young people and all those who were involved in pepariing them for their confirmation.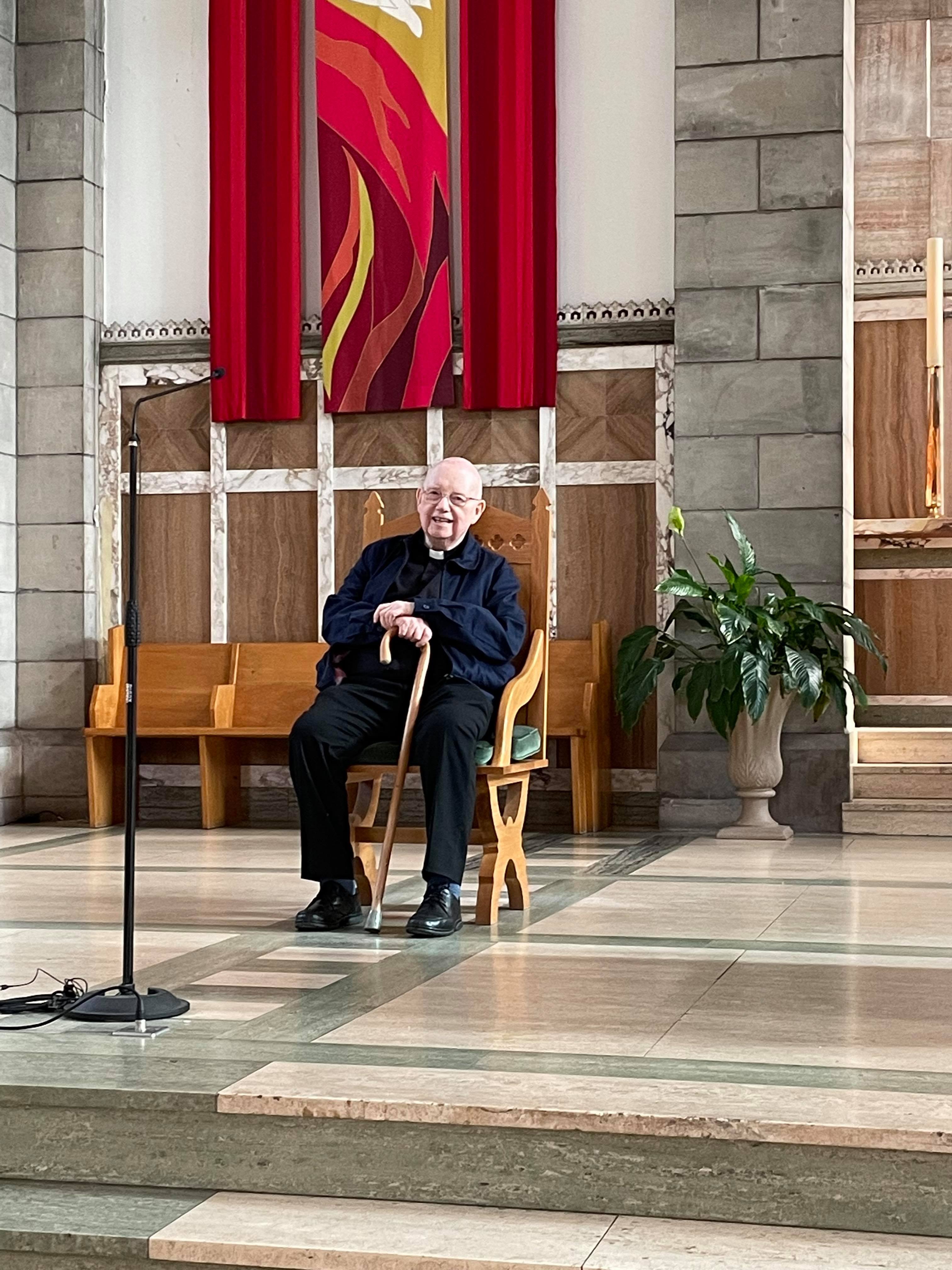 Canon Hendry looking out at the church before confirmations begin.



We would like to thank everyone for their continued co-operation with the COVID protocols. As we have seen with the case numbers increasing in Glasgow it is important, we continue to follow these. We are asked to join with the Holy Father throughout May to pray the rosary for the end of the pandemic. On 31st May Carfin will link live with the Holy father and be broadcast on Vatican Tv. We can join in via the Carfin Facebook page where the Rossary will be streamed begining at 5pm


You will notice at the back of the church when you come in, we have created our Prayer corner for Hope to allow for a moment of reflection for those affected by cancer. Over 100,000 people in the UK has died since covid however each year in the UK Cancer kills
166,000+
450 case reported a day
Every 4 minutes someone dies of cancer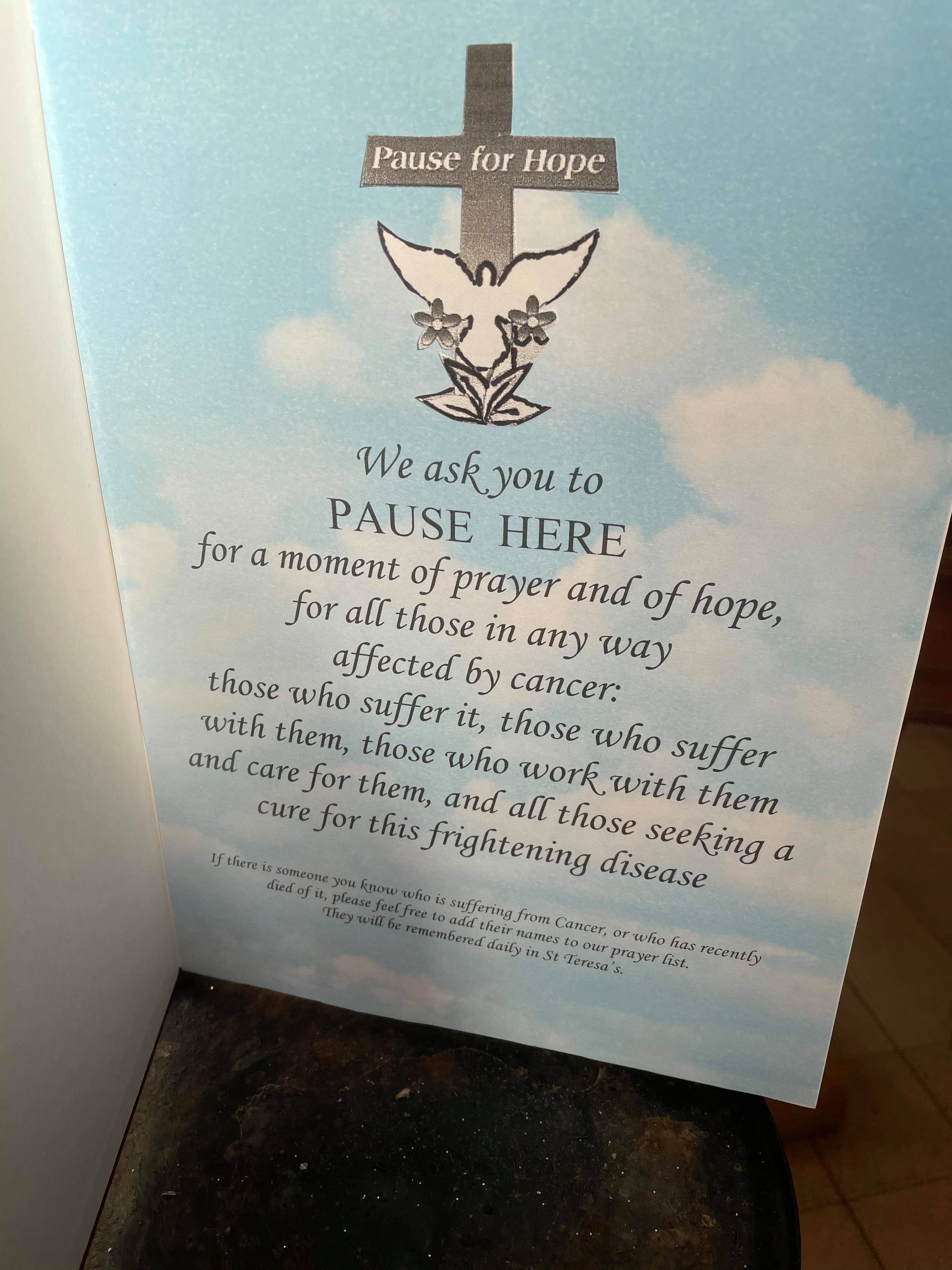 For the past several years here in St Teresa's we have held a pause for hope service to bring together those in our community, who have been affected by cancer to pray for the prevention or a cure to be found. Over the coming weeks and months we will share more about pause for hope and details of our next service. We have placed a book at the Prayer Corner for those who have been affected by cancer in someway to write a message requesting prayers.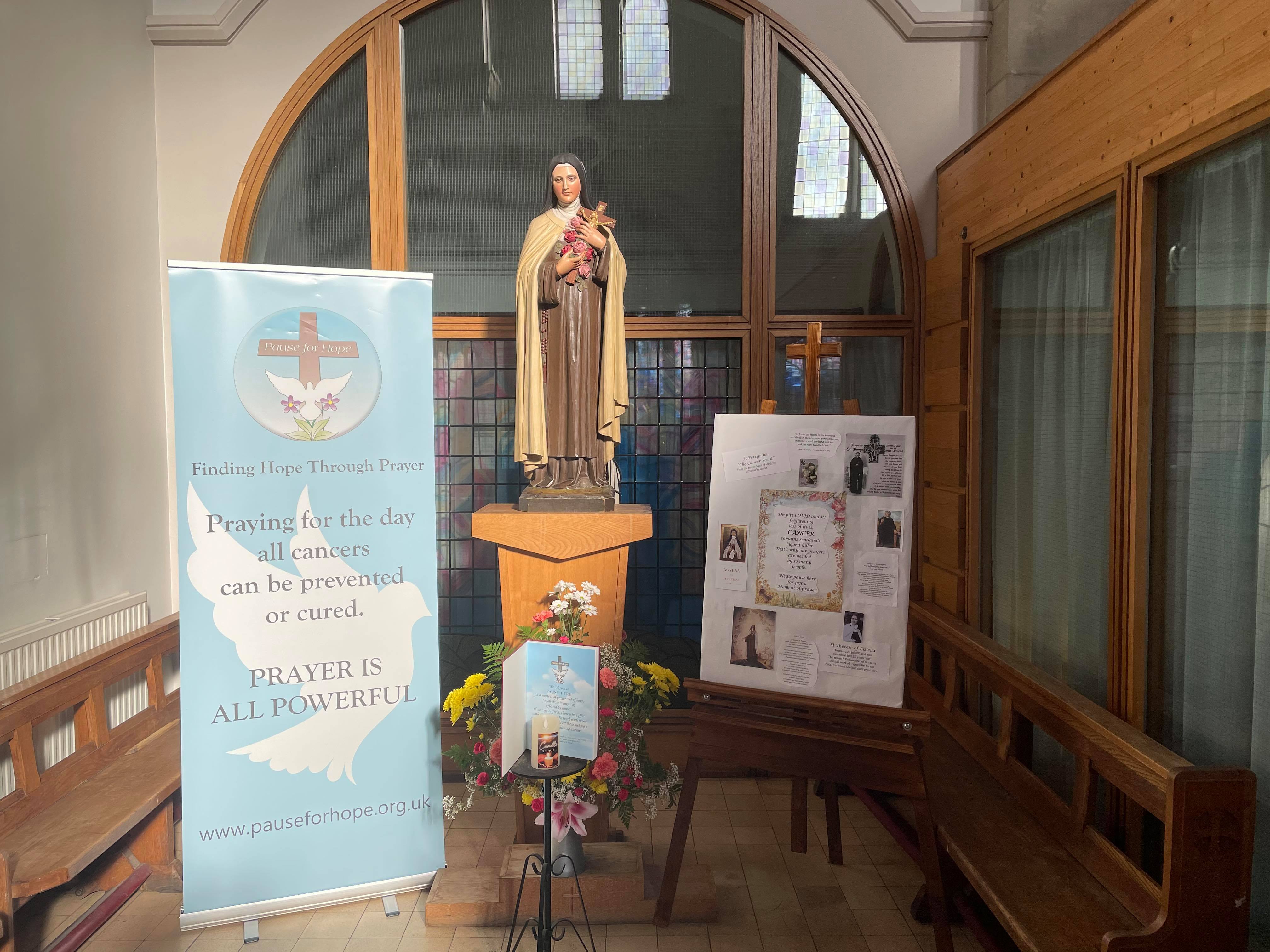 Some people have been asking about the candle of hope that is at the centre of the altar, on the back of the candle the cancer prayer is printed on it. We have a limited number of these candles for sale at the stall.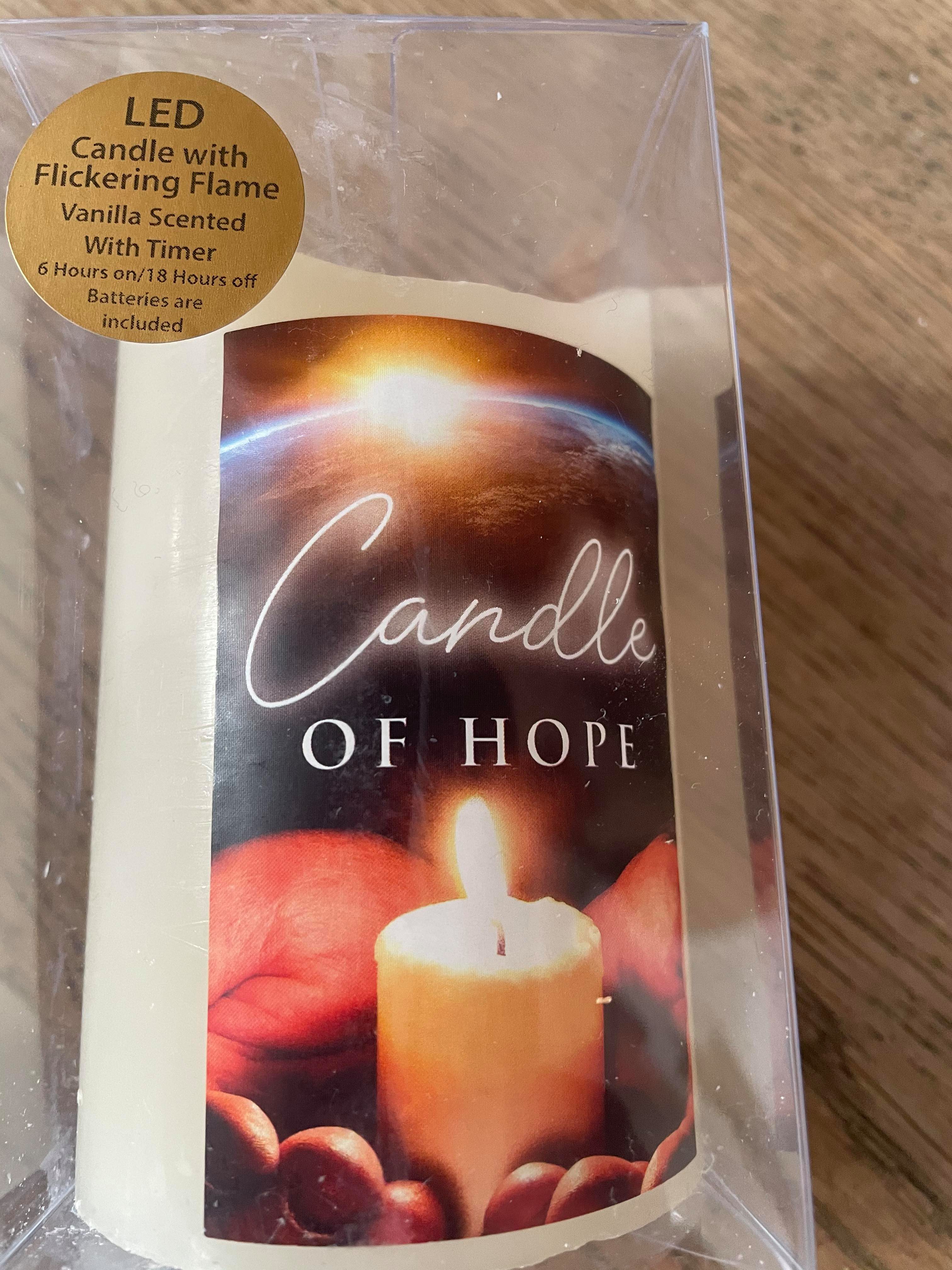 We would like to extend our deepest sympathies to HM The Queen and the Royal Family on the death of HRH Prince Philip. Eternal rest grant unto him, O Lord, and let perpetual light shine upon him. May the souls of all the faithful departed, through the mercy of God, rest in peace.



Canon Hendry and the Sister's would like to wish you all a very happy and holy Easter.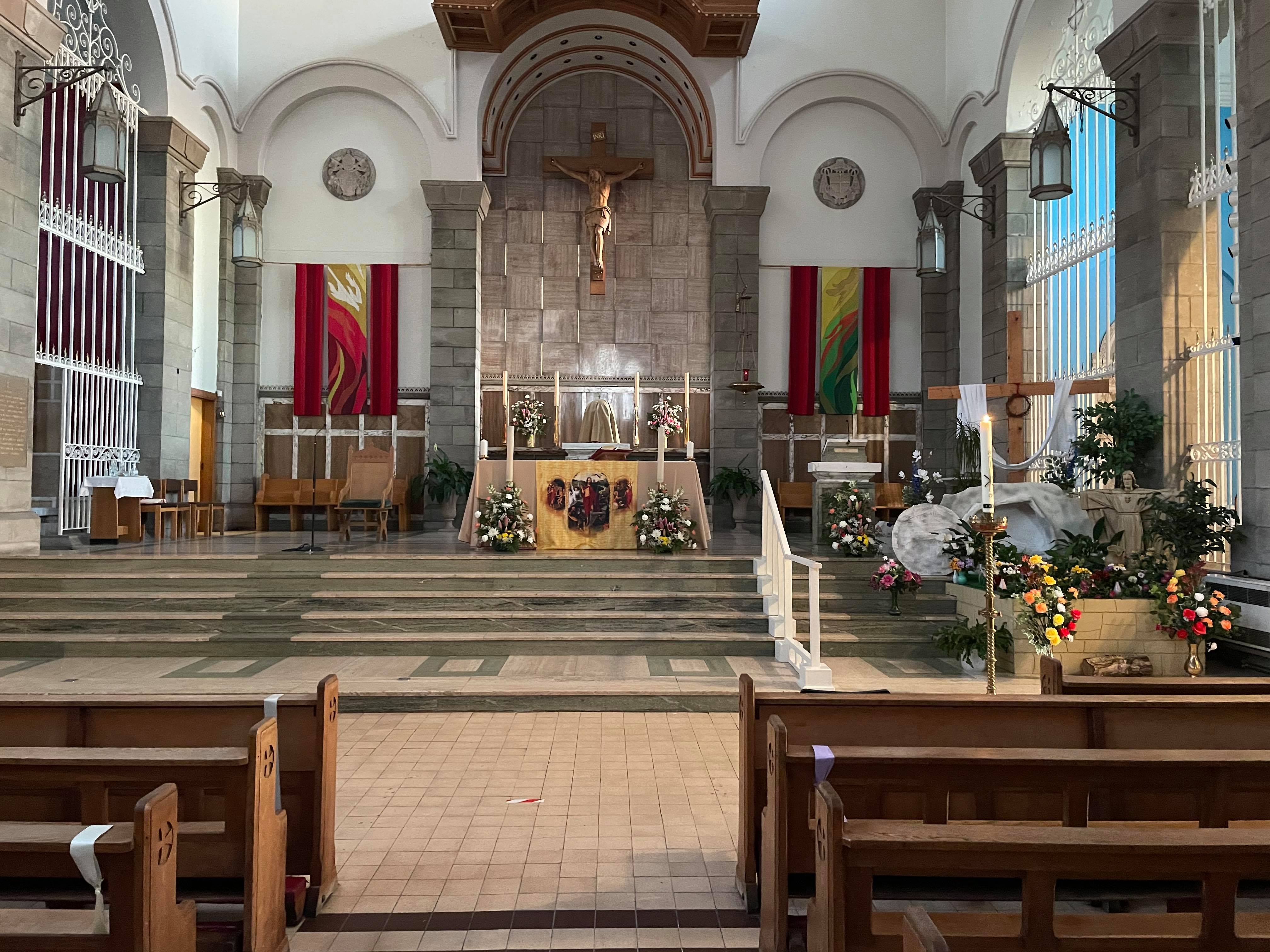 As we return to public worship over the weekend 26th/27th March, the vigil mass will be at 5pm (as we are unsure at the present time how many people will wish to attend). If there is a sufficient number to justify it, Canon Hendry would be willing to say a second Mass. Before christmas we asked people to indicate what mass they would like to attend Vigil or Sunday 10:30 this was to cover a period of 6 weeks. We would once again ask if you could indicate what mass you would like to attend again this will cover a 6 week period.
Please remember that you can attend a weekday mass in lieu of Sunday during the pandemic.
COVID 19 CONTINUES TO BRING CHANGES
It's difficult to believe that almost 8 months have passed since we first began to realise the power of this terrible virus and the damage it is capable of doing to so many lives. Now in its second spike, we are seeing a constant surge in the number of those testing positive, in the number of those hospitalized and in many cases admitted to Intensive Care. Likewise the number of deaths steadily increase.
Understandably, all of this means we are living and working with a growing number of restrictions that make life difficult for all of us, and most especially for our elderly. Loneliness is becoming a major problem for many, for as one old lady commented: "the only way I get to see somebody is to go for a walk." For churches too it is difficult, for so many of the activities and events we would normally have at this time of the year just can't happen. All we can do is to keep praying hard and doing the best we can to keep in contact with people.
LIVE STREAMING: One way of keeping some kind of contact is through live streaming, and we are now using this with all our Masses and services. After a few small glitches with the camera, it now seems to have settled down, and we hope is making it possible for many of those who can't come to church to share in all that is happening there. It has proved very helpful too for families arranging a funeral, when only 20 people are allowed to be in the church. Streaming the Mass makes it possible for others to share in the funeral Mass from home, or even to watch it later.
We have been very encouraged by the messages we have received from so many people – like the gentleman who wrote "I am just enjoying the splendour of my parish church' or the elderly lady, who grew up here, wrote from overseas 'how I wish I could be there for just one more time….'
PAUSE FOR HOPE: For some years now we have been in the habit of holding a deeply prayerful "Pause for Hope Prayer Service" for all those in any way affected by cancer – whether those who have the disease, their families, friends and carers, all medical personnel and all those researching a cure for the disease.
"Pause for Hope" was set up and the service written by Professor Ray Donnelly, himself a thoracic surgeon who has cared for a great many cancer patients. His purpose in setting this up was to add the power of prayer to the incredible work of research and fund raising that continues to bring about new drugs, new procedures, new forms of treatment, thereby bringing HOPE into so many lives.
Because of the virus restrictions, we can't have our usual open service, so instead, we are having a shorter service – also written by Professor Donnelly – on Sunday 15th November at 4pm. It will also be streamed so that all those in any way affected by cancer will be able to play it back at any time. We will also print the text for anyone who would like to use it as a means of praying for themselves or for someone close to them who is suffering from this terrible disease.
THANK YOU: We would like to take this opportunity to thank a great many people: Alan and the staff of Websites 4 Christians; our valiant team of volunteers who clean and disinfect the church after every service; those who keep all essential records; the two Deacons who set up our live streaming camera for us; and the many former parishioners and friends who have contact us via the Contact page on this web site or via Facebook. Stay safe, stay well and be sure you are gratefully remembered in all our prayers.
……………………
NOTE: Because of the virus, we are obliged to ask the name and phone number of anyone coming here to Mass, to a Funeral or any other service we might have. The reason is that in the event of anyone coming here contracting the virus, we need to be able to supply NHS with this information, for tracking purposes.
Privacy Notice: This parish has a lawful basis to process your information. Contacting people who might have been exposed to coronavirus is an important step in stopping the spread. Your information will be destroyed 21 days after the attendance at Mass. Your data will only be used for attendance at Mass and if requested by NHS Scotland for contact tracing purposes. You have the right to have your data erased or corrected. The full Archdiocese of Glasgow privacy notice is available at http://www.rcag.org.uk/idex.php/the-archdiocese/diocesan-curia/privacy-notice