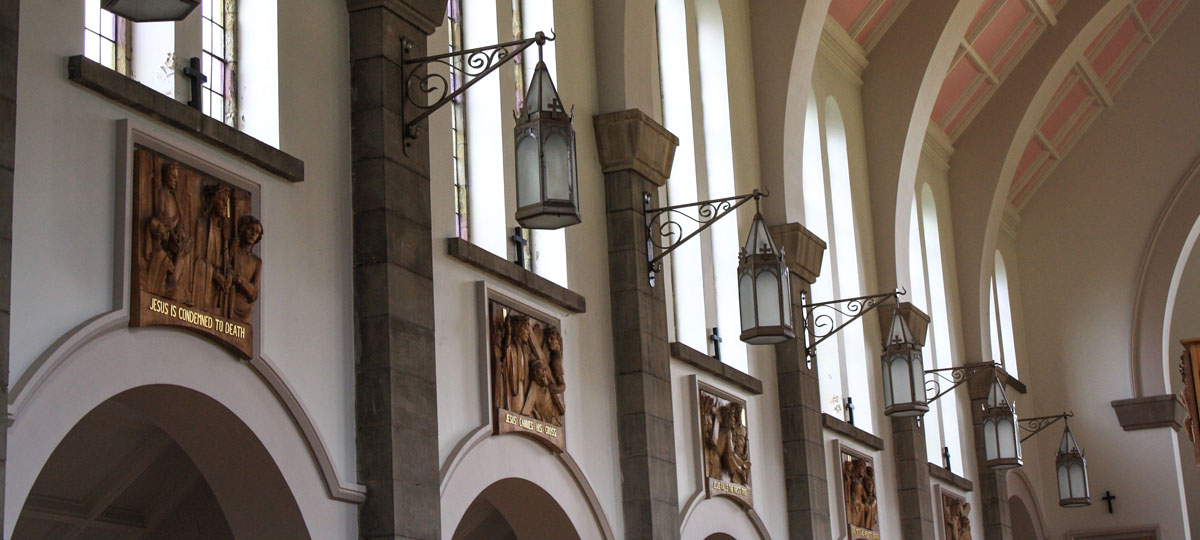 Forthcoming Events
Throughout the year we have regular Special Events marking occasions such as Mothers' Day, Christmas, Easter. There is an Annual Remembrance Day Mass, a Christmas and Summer Fayre, and a number of Ecumenical Events with our neighbouring Church of Scotland and St Matthew's Episcopal Church - e.g the annual Seder Meal, Lent and Advent Services, and the Service for all those in any way affected by cancer …….
COVID 19 CONTINUES TO BRING CHANGES
It's difficult to believe that almost 8 months have passed since we first began to realise the power of this terrible virus and the damage it is capable of doing to so many lives. Now in its second spike, we are seeing a constant surge in the number of those testing positive, in the number of those hospitalized and in many cases admitted to Intensive Care. Likewise the number of deaths steadily increase.
Understandably, all of this means we are living and working with a growing number of restrictions that make life difficult for all of us, and most especially for our elderly. Loneliness is becoming a major problem for many, for as one old lady commented: "the only way I get to see somebody is to go for a walk." For churches too it is difficult, for so many of the activities and events we would normally have at this time of the year just can't happen. All we can do is to keep praying hard and doing the best we can to keep in contact with people.
LIVE STREAMING: One way of keeping some kind of contact is through live streaming, and we are now using this with all our Masses and services. After a few small glitches with the camera, it now seems to have settled down, and we hope is making it possible for many of those who can't come to church to share in all that is happening there. It has proved very helpful too for families arranging a funeral, when only 20 people are allowed to be in the church. Streaming the Mass makes it possible for others to share in the funeral Mass from home, or even to watch it later.
We have been very encouraged by the messages we have received from so many people – like the gentleman who wrote "I am just enjoying the splendour of my parish church' or the elderly lady, who grew up here, wrote from overseas 'how I wish I could be there for just one more time….'
MASS OF REMEMBRANCE: Since last November, we have had 63 funerals here in St Teresa's, and on Monday 2nd of November we have our annual Mass of Remembrance, for the 63 parishioners who have died and for their bereaved families. Our church is usually crowded out for this event, but this year, because of the virus, we can have no more than 50 people present. We hope that those who can't be there might be able to share in this beautiful service by means of logging on to Teresa Lisieux Possilpark on their Facebook.
PAUSE FOR HOPE: For some years now we have been in the habit of holding a deeply prayerful "Pause for Hope Prayer Service" for all those in any way affected by cancer – whether those who have the disease, their families, friends and carers, all medical personnel and all those researching a cure for the disease.
"Pause for Hope" was set up and the service written by Professor Ray Donnelly, himself a thoracic surgeon who has cared for a great many cancer patients. His purpose in setting this up was to add the power of prayer to the incredible work of research and fund raising that continues to bring about new drugs, new procedures, new forms of treatment, thereby bringing HOPE into so many lives.
Because of the virus restrictions, we can't have our usual open service, so instead, we are having a shorter service – also written by Professor Donnelly – on Sunday 15th November at 4pm. It will also be streamed so that all those in any way affected by cancer will be able to play it back at any time. We will also print the text for anyone who would like to use it as a means of praying for themselves or for someone close to them who is suffering from this terrible disease.
CONFIRMATIONS: When the churches closed earlier in the year, the planned Confirmaions of children from St Teresa's and St Cuthbert's Schools had to be cancelled. These are now being re-planned and will take place here in St Teresa's Church. Dates have yet to be agreed, but it will be sometime before Christmas.
THANK YOU: We would like to take this opportunity to thank a great many people: Alan and the staff of Websites 4 Christians; our valiant team of volunteers who clean and disinfect the church after every service; those who keep all essential records; the two Deacons who set up our live streaming camera for us; and the many former parishioners and friends who have contact us via the Contact page on this web site or via Facebook. Stay safe, stay well and be sure you are gratefully remembered in all our prayers.
……………………
NOTE: Because of the virus, we are obliged to ask the name and phone number of anyone coming here to Mass, to a Funeral or any other service we might have. The reason is that in the event of anyone coming here contracting the virus, we need to be able to supply NHS with this information, for tracking purposes.
Privacy Notice: This parish has a lawful basis to process your information. Contacting people who might have been exposed to coronavirus is an important step in stopping the spread. Your information will be destroyed 21 days after the attendance at Mass. Your data will only be used for attendance at Mass and if requested by NHS Scotland for contact tracing purposes. You have the right to have your data erased or corrected. The full Archdiocese of Glasgow privacy notice is available at http://www.rcag.org.uk/idex.php/the-archdiocese/diocesan-curia/privacy-notice