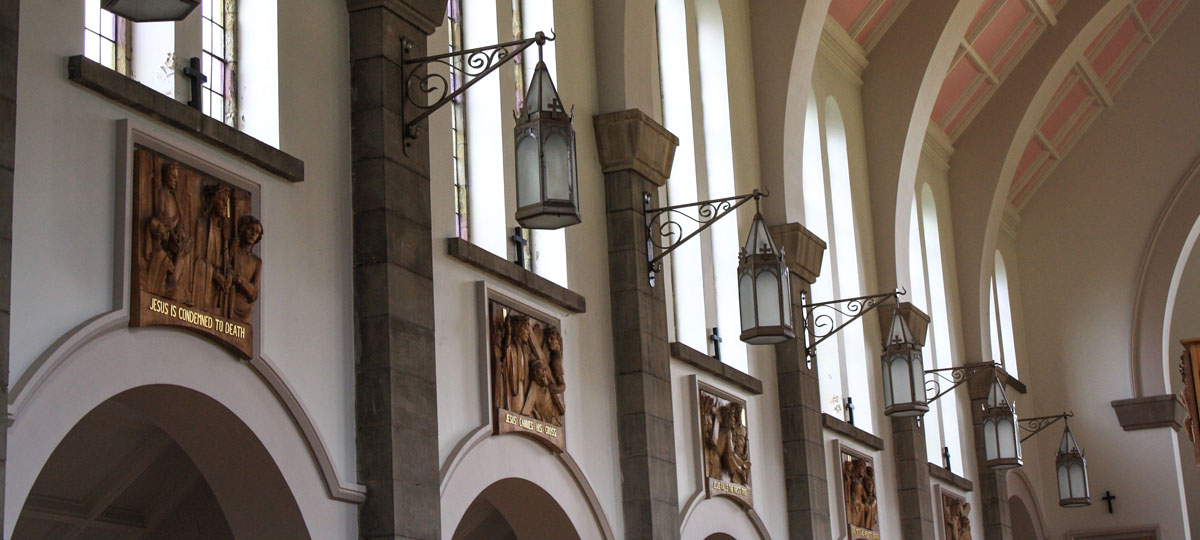 Forthcoming Events
Throughout the year we have regular Special Events marking occasions such as Mothers' Day, Christmas, Easter. There is an Annual Remembrance Day Mass, a Christmas and Summer Fayre, and a number of Ecumenical Events with our neighbouring Church of Scotland and St Matthew's Episcopal Church - e.g the annual Seder Meal, Lent and Advent Services, and the Service for all those in any way affected by cancer …….
EVENTS COMING UP FOR AUTUMN 2019

Already we are in November, and Christmas gets nearer with every day that passes! However, before we get to that point, here are some of the events on our calendar:



ANNUAL MASS FOR THE DEAD: At this time of the year we have a Mass for all those whose funerals have taken place here in the past year, and for their bereaved families. During the Mass, the names of each of the dead are read out and a candle is lit for each. Individual invitations have been sent to each family and they are invited to bring a photograph of their deceased member and place it on the altar steps during the Mass. Then at the end of Mass, they are able to collect their photograph and with it a little poppy cross carrying the name of their deceased relative. Every time we have a death, the name is placed on this little wooden cross with a poppy affixed to it, and this is placed on a board in our little Mortuary Chapel. Our parishioners light candles there for all our deceased.

This year's service takes place at 7pm on Wednesday 6th and will be followed by tea in the hall.

REMEMBRANCE DAY: As always, we have poppies on sale, in preparation for the solemn services of Remembrance Day. A thought for the day:

"It is Remembrance Day.

and, on this day the flower that brings forgetfulness

is now, instead, a promise to the dead,

that in our time, and in the times that lie ahead,

we will remember our indebtedness

to them, who died in terror and in pain;

and strive, for them, to make our world anew

that such a thing will never be again.

It is Remembrance Day.

Remember, then."

[by John L Mackle, used with permission}

CHRISTMAS FETE: An event we all look forward to is our annual Christmas Sale which this year takes place on the weekend of November 30th/December 1st. With a tombola, a raffle, stalls in plenty and tea in the hall, it is something we always enjoy and it helps a lot with our parish activities and charities.

ADVENT: We begin our Advent season by installing on the altar a bare Christmas tree, which we call our Advent Giving Tree. Through the weeks of Advent we invite our parishioners to place under it one little gift, and mark on it if it is intended for an adult or a child, and if the latter, whether for a boy or a girl and of roughly what age. When we get to the last week of Advent, we distribute these gifts to people whose Christmas will be a little brighter for having them – whether the recipient is in one of our several Care Homes or is a family that will welcome a little extra at this time of the year.

JOINT ADVENT SERVICE: Each Lent and Advent our local churches come together in a joint service of prayer, reflection and music, led by the leaders of our various churches. We will do that again this year – date to be decided.

CHRISTMAS PARTY: Our local Society of St Vincent de Paul holds their annual Christmas Party for our older parishioners on Sunday 15th December, beginning with a real Christmas Lunch at 1pm

CHRISTMAS SERVICES: Christmas Eve is, as always, a day of activity as the crib is set up, the tree is dressed and the church is prepared for the Carol Service and Mass of Christmas at 8pm. The Mass of Christmas Day is at 10.30 am Wednesday.

We take this opportunity to wish all who read this a peaceful and very happy Christmas.