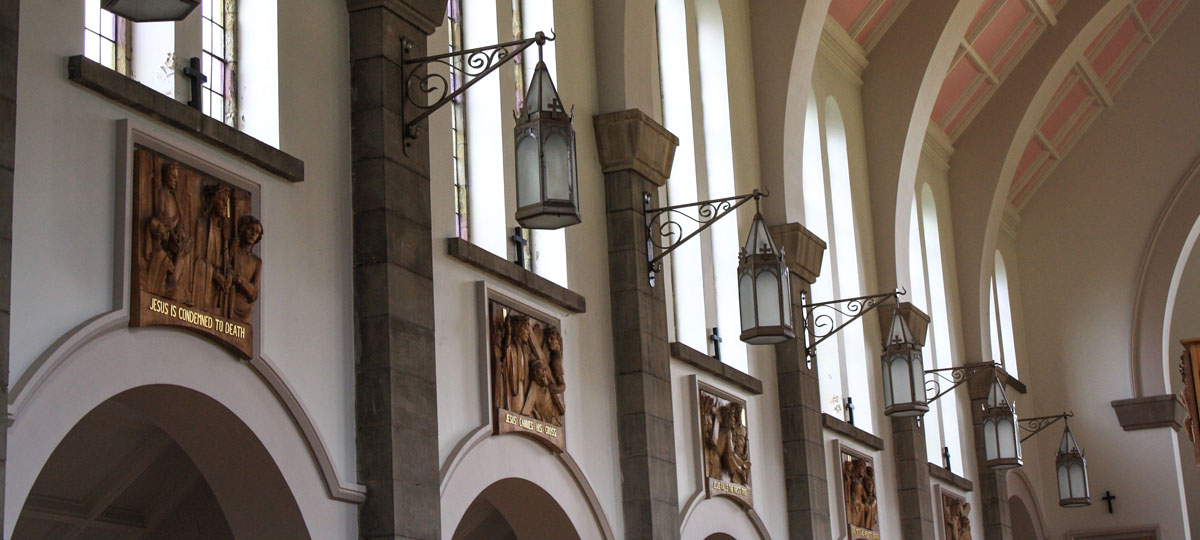 Forthcoming Events
Throughout the year we have regular Special Events marking occasions such as Mothers' Day, Christmas, Easter. There is an Annual Remembrance Day Mass, a Christmas and Summer Fayre, and a number of Ecumenical Events with our neighbouring Church of Scotland and St Matthew's Episcopal Church - e.g the annual Seder Meal, Lent and Advent Services, and the Service for all those in any way affected by cancer …….
COVID 19 CONTINUES TO BRING CHANGES
For six months now we have been living in the shade of COVID and adjusting to a wide range of restrictions in all walks of life, including our parish life. For the parish, the key restrictions are numbers, spacing and the now familiar hand sanitisers and face masks. With a 2 metre space around each available seat, we can just manage to accommodate the 50 people allowed to attend Sunday Masses, daily Masses or Baptisms. Weddings and funerals are more stringent, allowing no more than 20 people to be present.
The recent spike in the number of people testing positive for the virus has increased the restrictions, and so we are carefully working around them as we prepare to celebrate the First Communion of the children in St Cuthbert's and St Teresa's Schools.
These will take place on Saturday 19th September, for St Cuthbert's, and on Saturday 3rd of October for St Teresa's.
LIVE STREAMING: Within the next week we will be able to live stream all our services, and we hope this will help not only those who are unable to come out to Mass but the many people who would want to attend the funeral of a loved one but can't, because of the restriction on numbers. Streaming the Mass will make it possible for them to see the funeral Mass at home, Likewise, we hope family members and friends who would normally be invited to attend the First Communion Masses will be able to share in the Mass from their own homes. All our services will be accessible from Facebook.
FEAST OF OUR PATRON SAINT: One year from now we were celebrating the visit of the relics of St Teresa, and none of us are likely to forget the all-too-brief time they spent here in our parish. From the time they arrived, at 5pm, until they left the following morning at 11.30, huge numbers came from all over, even from England, to visit. It so happens that because of Covid 19, our First Communions – scheduled for May – had to be cancelled and are now taking place over this anniversary for St Cuthbert's, and for St Teresa's School, it will be just after the October feast of our Saint. Here in the parish we will celebrate the feast on the 1st of October in the usual way. And while our numbers may be smaller than usual, roses will again be blessed and distributed at the morning Mass.
PAUSE FOR HOPE: For some years now we have been in the habit of holding a deeply prayerful "Pause for Hope Prayer Service" for all those in any way affected by cancer – whether those who have the disease, their families, friends and carers, all medical personnel and all those researching a cure for the disease. "Pause for Hope" was established by Professor Ray Donnelly, himself a thoracic surgeon who has cared for a great many cancer patients. He introduced this service as an annual event, asking people to come together to pray for a cure. We have recently done that in May and again in October. Sadly, because of the virus restrictions, we can't have an open service this time, but we hope to record the service in October, live streaming it, so that all those in any way affected by cancer are able to play it back at any time. We will also print the text for anyone who would like to use it as a prayer for themselves or for someone close to them who is suffering from cancer.
NOVEMBER MASS FOR THE DEAD: Looking further ahead to our usual November Mass for all those whose funerals have taken place here in St Teresa's in the past year, it is very unlikely that we will be able to invite all the bereaved families to attend the Mass, as we usually do. We remain limited to 50 in the church, and the number of funerals we have had since last November far exceeds that number. We will, however, be able to have the usual Mass at which the names of all those who have died are read out and candles lit for each one, and that will be streamed, so that families are still able to share in it if they wish to do so. Each bereaved family will still receive a letter from Canon Hendry, explaining all the details.
……………………
NOTE: Because of the virus, we are obliged to ask the name and phone number of anyone coming here to Mass, to a Funeral or any other service we might have. The reason is that in the event of anyone coming here contracting the virus, we need to be able to supply NHS with this information, for tracking purposes.
Privacy Notice: This parish has a lawful basis to process your information. Contacting people who might have been exposed to coronavirus is an important step in stopping the spread. Your information will be destroyed 21 days after the attendance at Mass. Your data will only be used for attendance at Mass and if requested by NHS Scotland for contact tracing purposes. You have the right to have your data erased or corrected. The full Archdiocese of Glasgow privacy notice is available at http://www.rcag.org.uk/idex.php/the-archdiocese/diocesan-curia/privacy-notice