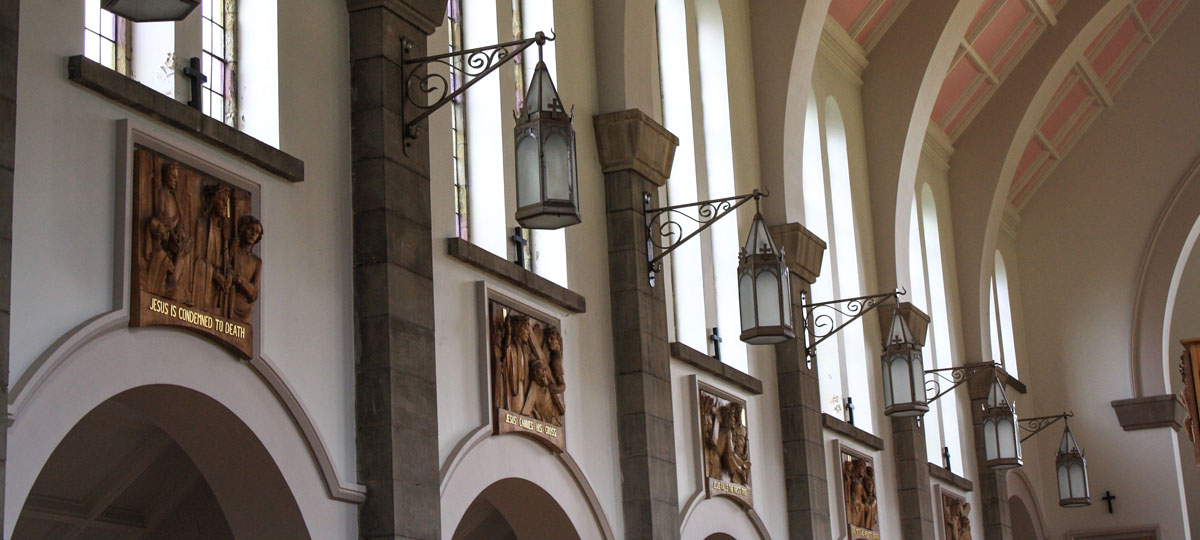 Forthcoming Events
Throughout the year we have regular Special Events marking occasions such as Mothers' Day, Christmas, Easter. There is an Annual Remembrance Day Mass, a Christmas and Summer Fayre, and a number of Ecumenical Events with our neighbouring Church of Scotland and St Matthew's Episcopal Church - e.g the annual Seder Meal, Lent and Advent Services, and the Service for all those in any way affected by cancer …….

EVENTS COMING UP FOR AUTUMN 2019


SEPTEMBER: As we enter into September, the main event for all of us is the visit to Scotland of the relics of our patron Saint, St Therese of Lisieux. They will spend the next few weeks making their way round the Scottish Dioceses and then, on September 16th they will arrive here at St. Teresa's. And if you wonder why we spell ours without an 'h', we wonder that too! For some reason the original documents naming the new parish, back in the early 1930's, misspelt the name, and so it went into history as St Teresa's, rather than St Theresa's. Nevertheless, it's the same saint!

The relics will arrive here at 5pm on the 16th and there are services at 5pm, 7pm and 10pm. Then on the 17th, we have a Mass at 10 am and after that, the relics will be transferred to the Cathedral where there are a whole series of events until the morning of the 19th when the relics will be taken back to their home at Lisieux in France.

DIOCESAN MEDAL AWARD: On the 8th of September, one of our parishioners, Mr Dennis Wilson, will receive the diocesan medal, in recognition of his long years of service and devotion to the parish. Without him, our lawns wouldn't be cut and our grounds – vast as they are – would certainly not look as tidy as they do!

MISSION APPEAL: On the same day, we have a visiting Missionary priest from the Spiritan congregation (you might know them as Holy Ghost Fathers) to speak about the missionary work they do in so many needy countries.

SPRED: A week later we have a Sunday collection for SPRED, which stands for "special religious education". This organization specializes in offering support and care, together with religious education to children and young people who have special needs. They are a very happy group and a joy to be with.



GLASGOW CHURCHES TOGETHER: On Thursday 12th September Glasgow Churches Together hold their annual "PAUSE FOR HOPE" Service, this year in Our Lady of Lourdes Church, Cardonald at 7pm This ecumenical service invites all of us to focus our thoughts and prayers on all those suffering from cancer or in any way affected by it – for the lives of all parents, family, friends, carers, nursing and medical staff are also affected by this terrible disease. This very touching and prayerful service is an opportunity for all of us to join in prayer that the day will quickly come when there will be a cure for all cancers and a way of preventing them too.

FEAST OF ST MATTHEW: On the 21st we celebrate the feast of St Matthew and we are invited to join the community of St Matthew's Episcopal Church for their parish celebration which also marks the 25th anniversary of St Matthew's Centre.

OCTOBER 1st: This is the feast day of St Therese and our parish feast too. Since it marks the end of a month of focus on this saint, widely known as "the little flower", we celebrate our feast day with Mass in the morning and the gift of a rose. And in the evening, we round it all off with a concert, featuring the well-known and very popular Columban Male Voice Choir. Their programme includes songs from the shows, classical hymns and a few sing-alongs too. The concert begins at 7pm and we hope our parishioners turn out in good numbers for what promises to be a very enjoyable evening.

The other October events we will list in the next update. Pope Francis has asked that the month of October be recognized as a missionary month, so there will be many events around that. Then we have the October week of school holidays, our annual Toy Sale, and our own parish "Pause for Hope" service. More of that to come!