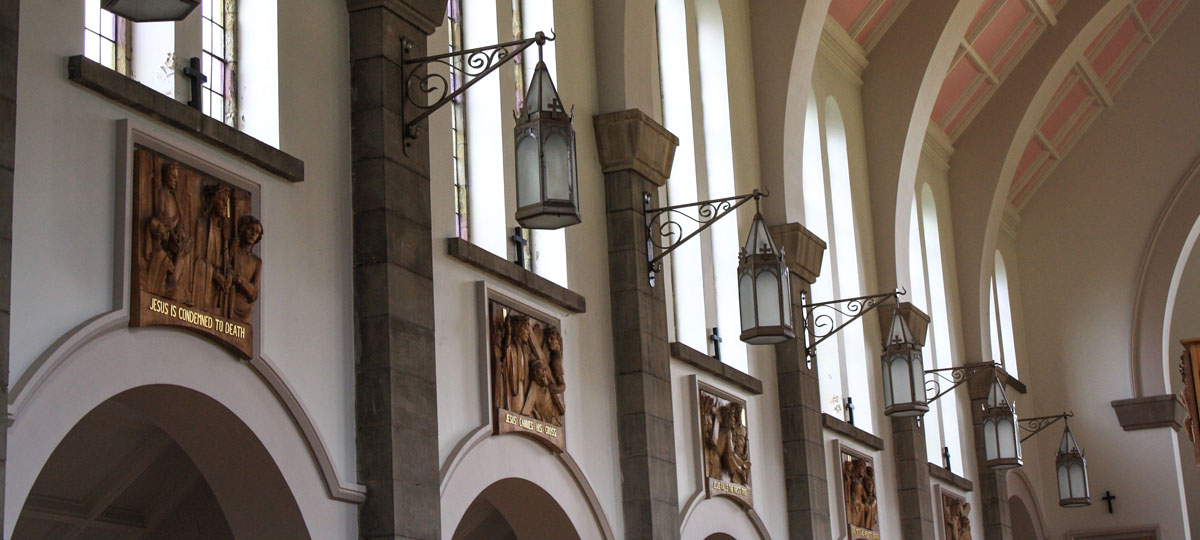 Forthcoming Events
Throughout the year we have regular Special Events marking occasions such as Mothers' Day, Christmas, Easter. There is an Annual Remembrance Day Mass, a Christmas and Summer Fayre, and a number of Ecumenical Events with our neighbouring Church of Scotland and St Matthew's Episcopal Church - e.g the annual Seder Meal, Lent and Advent Services, and the Service for all those in any way affected by cancer …….
EVENTS COMING UP FOR SPRING 2020
As always, the Christmas season flew past and we were into January and February – with heavy rain, winds and snow! Lent is now almost upon us, so this is a good opportunity to list the events on our calendar for the next few months.
CBC EXHIBITION: Beginning on Sunday 16th and ending 5pm on Wednesday 19th, the CBC Exhibition of religious cards, gifts, books etc will be in our parish hall. With Confirmations and First Communions high on our agenda at this time, there will be a wide range of suitable gifts on display and parish stall-keepers throughout Scotland will be coming to place their orders.
ASH WEDNESDAY: This falls on Wednesday 26th February and marks the beginning of the Lenten period. Ashes will be blessed and distributed at the 10 am Mass and again at the evening service at 7pm.
DAY OF PRAYER FOR VICTIMS OF ABUSE: The Scottish Bishops' Conference has asked all parishes to hold this day on Friday 28th February. The day will be marked by a special PRAYER SERVICE in the Church at 7pm and we hope that many of our parishioners will come along to join us in prayer for so many people who have suffered so much. Similar Prayer Services will be held in Ireland, Australia and USA, to name but a few of the countries that will be involved.
WOMEN'S WORLD DAY OF PRAYER: This takes place on Friday 6th of March. Arrangements for the Service have yet to reach us but will be published in the parish bulletin.
DEMENTIA PRAYER WEEK: This begins on Thursday 12th March and continues until the 19th. Further information will follow.
SACRAMENT OF RECONCILIATION: The children from our two schools who are preparing to receive this Sacrament will do so on Wednesday 18th March at 7pm
MOTHERS DAY: The fourth Sunday of Lent – March 22nd – is traditionally Mothers' Day and as usual, we will celebrate that at the Sunday morning Mass, followed by tea and Mothers' Day cake in the hall, while the children will present all the ladies with a bunch of daffodils!
SCIAF SUNDAY: This same day (22nd March) is also SCIAF SUNDAY when we support the Scottish Catholic International Aid Fund and its "wee box" campaign.
CONFIRMATIONS: The children eligible to receive this sacrament will do so in St Augustine's Church on Thursday 2nd April. Details will be sent out through the schools.
PALM SUNDAY: This falls on Sunday 5th April and is a day when we usually join our neighbouring churches in an Ecumenical Service. This day also marks the beginning of Holy Week. Full details of the many services and events will be published later and among them is our usual ecumenical SEDER MEAL on Tuesday 7th April at 7pm