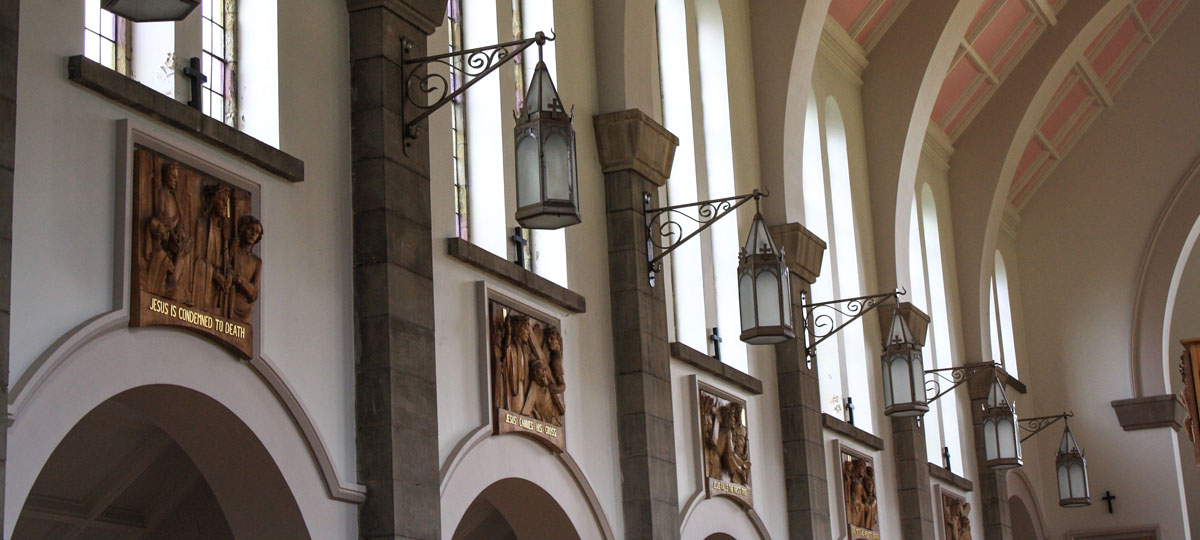 Forthcoming Events
Throughout the year we have regular Special Events marking occasions such as Mothers' Day, Christmas, Easter. There is an Annual Remembrance Day Mass, a Christmas and Summer Fayre, and a number of Ecumenical Events with our neighbouring Church of Scotland and St Matthew's Episcopal Church - e.g the annual Seder Meal, Lent and Advent Services, and the Service for all those in any way affected by cancer …….
CELEBRATION OF HOLY WEEK
Since the current restrictions will remain in place in Scotland at least until after Holy Week and Easter Sunday, the Archbishop will celebrate the liturgies in St Andrew's Cathedral and live-stream them at the following times
Palm Sunday: Mass at 12 noon
Holy Thursday: Mass of the Lord's Supper at 6pm
Good Friday Service at 3pm
Easter Vigil begins at 8.30 pm
You can follow all these services, if you have a computer, by going on to the
website of St Andrew's Cathedral: www.cathedralG1.org

CORONAVIRUS BRINGS MAJOR CHANGES
Following the Prime Minister's televised address, introducing stricter measures to be implemented, in an effort to halt the spread of this virus, the Archbishop sent all parishes a letter outlining the restrictions to be put in place. The following extracts from that letter make clear the present situation:
"The new golden rule in this battle against the coronavirus is that we should all stay at home, if possible, and that, outside the home, no groups larger than two persons should form.
This virus will have mild effects in the vast majority of people, but the experts tell us that we can expect confirmed cases of the virus to rise and fatalities to grow in number. At the same time, our leaders and medical officers have advised that staying at home will halt the spread of the virus, lessen suffering and save lives.
The full package of restrictions is therefore:
* suspension of all public Masses and Acts of Worship
* closure of churches
* no marriages in church
* no baptisms in church
* no home visits to the sick
* funerals limited to the Act of Committal at the graveside or crematorium"
With regard to funerals, the government has requested that the numbers attending be kept small. Undertakers will explain this when a funeral is being arranged.
SO WHAT CAN WE DO? The Archbishop continues:
"Thankfully government directives still allow for the livestreaming of Masses and other acts of worship from behind closed doors. So if you have access to a computer, you can follow daily Mass from the Cathedral at 8.15am, 1pm or 5.15pm. On Sundays, Mass is at 10am and 12 noon. You can follow these Masses at www.cathedralgl.org
It is important to be aware that if you need any personal pastoral or sacramental care, please call or e-mail your parish priest and he will discuss with you how best to help.
I encourage you to pray unceasingly in your homes for a halt to this epidemic, for those who are suffering, for all doctors, nurses and healthcare workers, and for our civic leaders. Here again you can access news, updates and online prayer resources at www.rcag.uk and at other Catholic websites.
Let us together put our trust in God our Father, who created us with a loving purpose.
My dear friends, stay at home, keep safe, and may God bless us all.
Yours devotedly in Christ,
Philip Tartaglia
Archbishop of Glasgow
POPE FRANCIS OFFERS A SPECIAL BLESSING:
On Friday 27th March at 5pm (UK time) Pope Francis will lead a time of prayer and in the course of that prayer he will impart an extraordinary Urbi et Orbi blessing at this time of global crisis. This will be streamed on Vatican News and will also be accessible through channels like EWTN